CONTROL WHO IS COMING & GOING
Smarter Access Control
Cloud-based access and surveillance system management is the way of the future. Seamlessly manage users and access groups through our intuitive cloud-based service. Whether you're a one man shop or have hundreds of employees throughout multiple locations, we've got you covered.

Expandable

User Friendly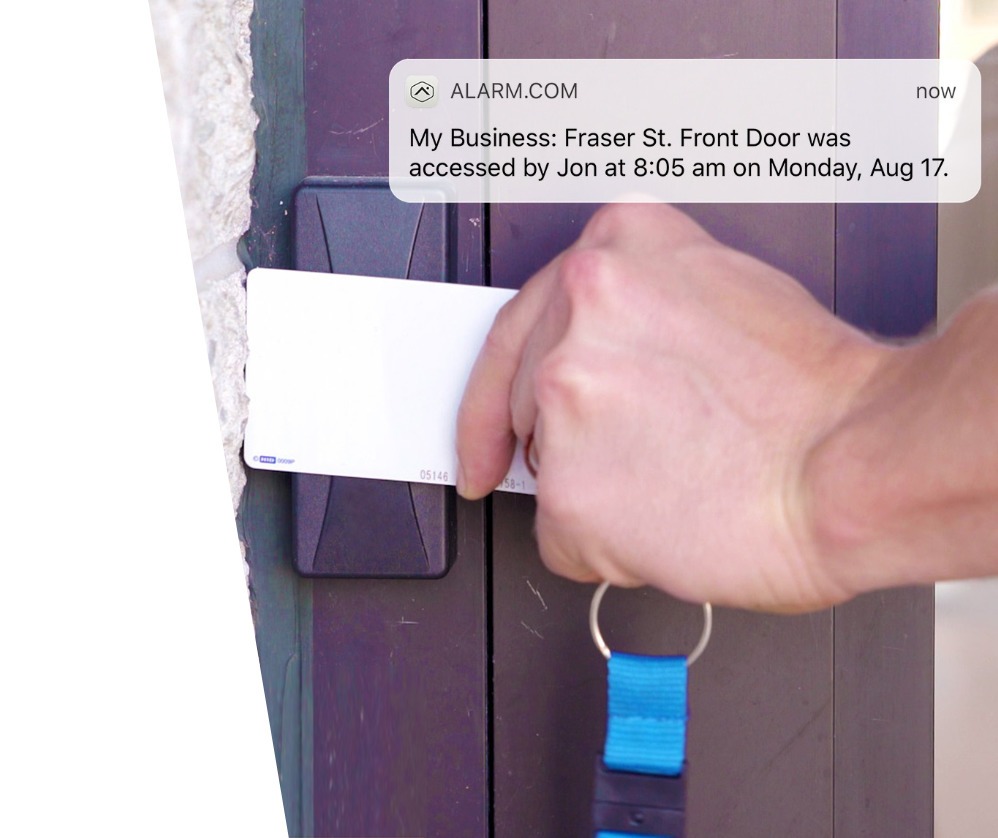 Simplified Management
Remote Configuration: Add, edit, or delete users and cards in seconds from anywhere.
Automation & Rules: Set up automation rules to enable the security system to be armed when the first person badges in.
Video integration: Quickly and effortlessly locate video clips that correlate with access control events.
---
Common Questions
Below are some common questions we receive when customers are considering access control:
How many doors can I control?
As many as you like. Our Access control panel is designed for expansion. Visit with one of our Professional system design engineers for more information
Can I limit access times and who has access?
Yes, the administrator or authorized individual has the capability of limiting access by time, date, and location.
Am I able to be alerted if my business opens late or closes early?
Yes, this is part of the smart business notifications.
What if the power goes out, am I still able to get in?
In most cases yes, this will depend on the electronic locks installed on your facility. However, all doors should have a mechanical option for entry.
Can it be integrated with security?
Yes it can! Talk about smart security. Set up an automated disarm rule through the app and simply present your fob or credential to the reader and the security system can disarm. Present the fob twice on the way out to re-arm!
I have multiple business locations. Can I manage them all through one interface?
Through the Alarm.com Enterprise Dashboard you can manage your security, access control, video surveillance, and energy management across multiple business locations all in real time.
How hard is it to remove a user from the system?
Extremely easy. Simply open the Alarm.com app from your mobile device, select users from the drop down menu and delete or modify the user profile.

Speak With An Expert
Bradley Security is a local Minnesota home & business automation and security company based out of Hutchinson, MN that specializes in installation and services.